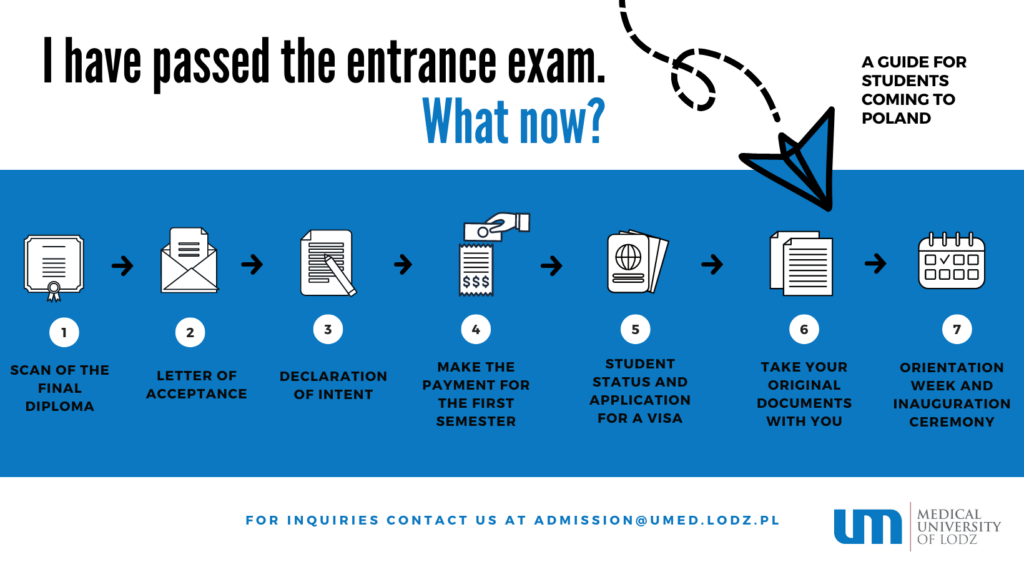 I have passed the entrance exam. What now?
Send us a scan of your final diploma.
Once we receive a scanned copy of your diploma (sent by e-mail to: admission@umed.lodz.pl), you will receive a Letter of Acceptance which can be downloaded from your online account.
Make payment for the first semester.
Once your payment reaches our bank, we will issue a Student Status for you. You will need it in order to apply for a visa.

Attention applicants for visa!

First, find information about the Polish embassy in your country.
Check visa requirements on the embassy's website.
Check the dates available and make an appointment (beware of the limited number of hours available).
Remember that you will need a booking confirmation of your accommodation. Thus, do not wait to book housing in Lodz, especially since the number of vacancies in dorms is very limited.
It might take up to 3 weeks for the visa to be issued, so do not wait and make an appointment as soon as possible.
Book your flight.
Take the original required documents with you. You will be asked to submit them to the Admission Office upon your arrival.
The Orientation Program starts in the last week of  September, 2023 (the exact date will follow)
Inauguration Ceremony will be held on October 2, 2023.
Do you still have some questions? Find the answers in our students' guide: Student Guide 2022-2023
In case of any other doubts, contact the Admission Office via admission@umed.lodz.pl.
See you in Lodz!