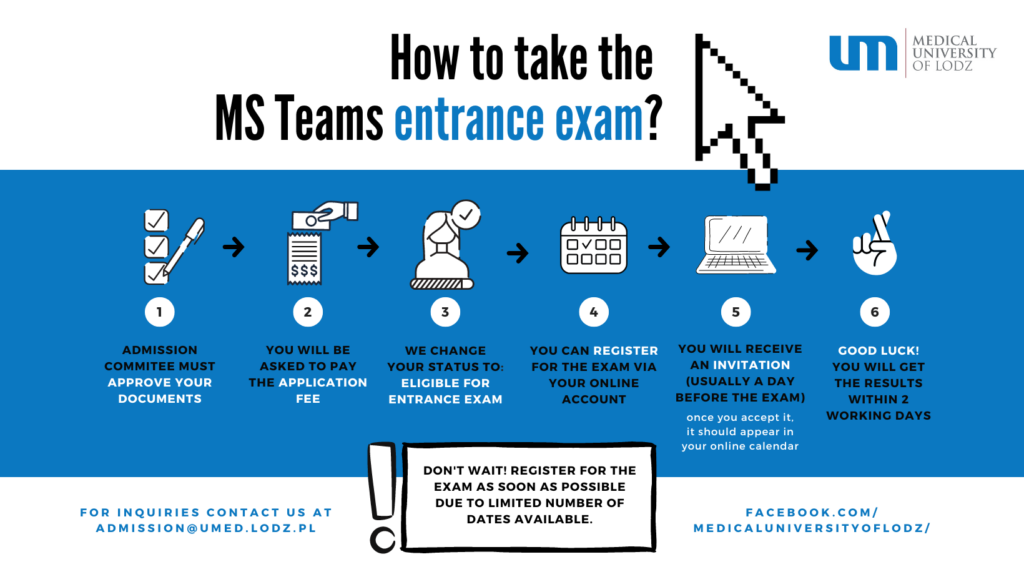 The candidate should present in the front of the camera the passport (page with the passport number and photo) to be identified by the Admission Committee. The passport should be the same as declared in the Application Form and sent with the application documents.
Technical requirements: to avoid any technical problems to conduct the entrance exam we advise testing the functionality of your computer including voice, video and chat (typing) before the day the exam is scheduled. Length of exam: approximately 30 minutes per applicant.
Please double check the internet connection before your exam and make sure that it is stable. Use a broadband internet access of not less than 10 Mbit/s (symmetrical). It cannot be a GSM network.
Examination content:
For 6-year MD and 5-year DMD Programs
General questions (motivation, potential for professional behavior, socio-medical subjects)
Questions verifying knowledge of 2 out of 4 subjects listed below:
Biology – 4 questions
Chemistry – 4 questions
Physics – 4 questions
Mathematics – 4 questions
Exam questions for all the above programs at the appropriate level will be based on the material from the following books:
"Campbell Biology": Lisa A. Urry, Michael L. Cain, Steven A. Wasserman, Petr V. Minorsky Rebecca Orr, 12th edition, ISBN-13: 9780135988046;
"Chemistry: An Introduction to General, Organic, and Biological Chemistry": Karen C. Timberlake, 13th edition, ISBN -10: 0134421353 / ISBN-13: 978-0134421353;
"Calculus for the Life Sciences": Raymond N. Greenwell, Nathan P. Ritchey, Margaret Lial, Global Edition, ISBN-10: 1292062339 / ISBN-13: 978-1292062334;
"Physics: Principles with Applications": Douglas C. Giancoli, 7th edition, ISBN-13: 978-0321985286.