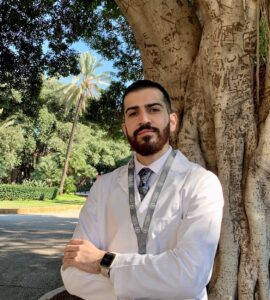 Dr William Abou Shahla
Graduate of MD Advanced Program 2021
Postgraduate Research Fellow in the Department of Dermatology at American University of Beirut
It was not easy to say goodbye to all the people I knew during my studies in Poland, as well to the friends who became family after the four years of medical education. We came from a variety of backgrounds but we all shared the love for the Polish culture and Poland's educational system.
Right after graduation, I went on to pursue an internship at the Hotel Dieu de France University Hospital.  Soon after, with the education I gained at MUL, it was no challenge for me to get hired at the American University of Beirut as a Postdoctoral Research Fellow in the Department of Dermatology.
Even when I might be considered as someone taking the "long way home," I take pride in the time and effort put into paving the road less taken among other graduates.
My message for the new graduates is to find their passion and to be eager for taking any chance that might place them a step closer to their final goal.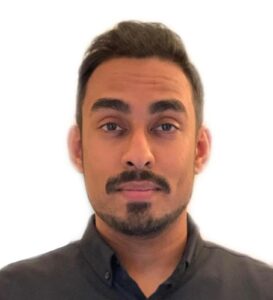 Dr Vishnu Pradeep
Graduate of 6MD Program 2012
MD, MRCPsych (UK), MCPsych (Ireland), Consultant Adult Psychiatrist and Senior Clinical Lecturer Trinity College Dublin
Dr Vishnu Pradeep graduated from the six-year MD program at MUL in 2012. He is a Consultant Psychiatrist in General Adult Psychiatry based at Tallaght University Hospital, Dublin and is a Senior Clinical Lecturer with Trinity College Dublin. Following his studies at MUL, he completed his medical and surgical internship in Ireland. Then subsequently went on to complete his specialist training in Adult Psychiatry and Psychogeriatrics while rotating through the Mid-West Mental Health and Dublin psychiatric training schemes.
During core training, he received the regional psychiatry trainee award. While in higher training, he held academic teaching posts with University College Dublin and Trinity College Dublin and was awarded the National Doctor's Training and Planning HSE Management and Leadership Scholarship to pursue a master's in leadership studies with the Royal College of Surgeons in Ireland. While in training, he held leadership roles within the College of Psychiatrists of Ireland Trainee Committee and was actively involved in improving post-graduate training and education in psychiatry.
He maintains research ties with the University of Limerick, University College Dublin and Trinity College Dublin and has published research on medical education and service development. He is currently working in a Dublin Community Adult Psychiatry team focusing on primary care psychiatric outreach service and is responsible for training Psychiatric Trainees, General Practice Trainees and Medical Students linked to Trinity College Dublin.
Dr Pradeep fondly remembers his time in MUL and is grateful for all the support he received from his supervisors and administrative staff with the faculty of medicine and various teaching hospitals in Łódź. He encourages all future graduates to work hard, stay focused and dream big!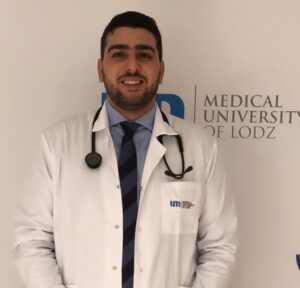 Dr Mohamad Mahdi Mortada
Graduate of MD Advanced Program 2021
2ⁿᵈ year PhD candidate in the Department of Immunology and Allergy
I am Mohamad Mahdi Mortada, a medical doctor and PhD candidate in my 2nd year in the department of Immunology and Allergy. Back to 2017 and after finishing my undergraduate studies at the Lebanese American University with a Bachelor of Science in Biology & a minor in Chemistry, I decided to continue my medical studies abroad at the Medical University of Lodz. Moving to Poland was an exciting challenge as I gained new skills which helped in my personal and professional development. Alongside with my medical studies, I ensured to participate in several events organized by the European Institute of Innovation & Technology (EIT) in Germany, France, and Poland.
During my studies I developed an interest in medical research, that's why after my graduation from the medical school in 2021, I decided to apply to the International Doctoral School and since October 2021, I am conducting my research which is focused on the assessment of inflammatory parameters and local allergic reaction in diagnosis and endotypic classification of allergic rhinitis. Currently we are in the phase of recruiting patients for the study and collecting samples for assessment. We hope that the results of our study will open new doors for the implementation of allergen immunotherapy (AIT) in the management protocol of local allergic rhinitis patients and will helpfully provide new insights into phenotypical and endotypical classification of allergic rhinitis.
Finally, a message to all future doctors and researchers who would like to continue their education in Poland, you will have in the city of Łódź the chance to enjoy the friendly environment, connect with new people and discover the beautiful Polish culture.