Central University Hospital honoured with Forbes Diamond 2023
The winners of the prestigious Forbes Diamonds 2023 award have been announced. Central University Hospital (CUH) Medical University of Lodz is one of the recipients of the award ranked 7 on the national list of companies in medical and healthcare industry.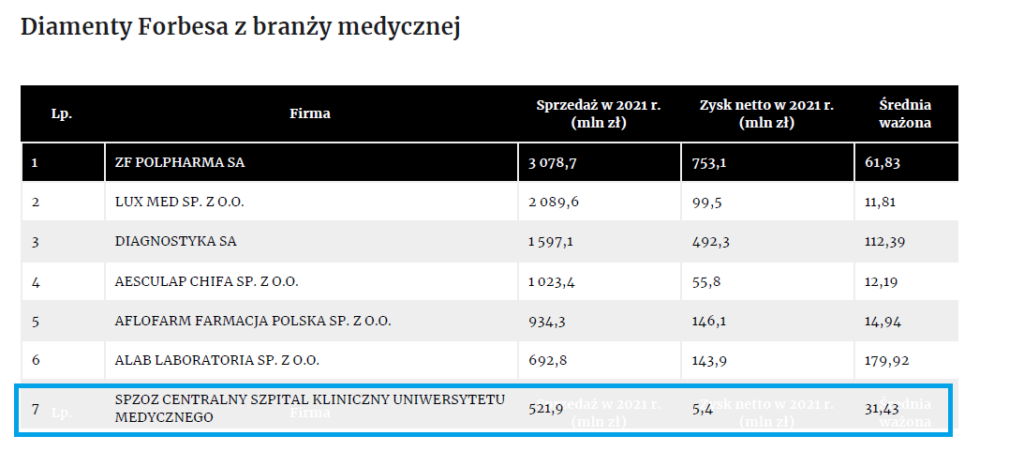 Such a recognition in such hard times is a double reason to relish the award. It appears that, admittedly not for the first time, our hospital was not only appreciated for the quality of the health care services but also for effective and competent management. This confirms our belief that we have chosen the right direction, that consolidation of potentials is worthwhile, that it pays off to develop digital solutions and reach out for new initiatives, saysMonika Domarecka PhD, Director of CUH.
Central University Hospital is one of three university hospitals of the Medical University of Lodz. MUL structure also includes Pediatric Center Maria Konopnicka (hospital at Sporna St.), Institute of Dentistry, Psychiatry and recently incorporated Gynaecology and Obstetrics Centre Rydygier (hospital at Sterlinga St.). The position of CUH has already been confirmed by numerous awards and certificates the hospital has collected so far: Accreditation Certificate granted by Centre for Quality Monitoring in Health Care, ISO certificates, "Hospital Without Pain" Certificate. Last year, the hospital initiated the construction of Lodz Toxicology Centre (total investments over PLN 60 million), and also received over PLN 100 million from Medical Funds (as one of 14 facilities nationwide) for the improvements in the health care services for the youngest patients. The obtained resources will fund the reconstruction and equipment upgrade for Pediatric Center Maria Konopnicka at Sporna St. as well as the establishment of Supra-regional Centre for Pediatric Oncology at Clinical and Didactic Centre in Lodz.
Forbes Diamonds is an annual ranking of the most dynamically developing Polish companies. The ranking is based on a Swiss method that assesses the value of know-how and investments, where the companies are being recognized based on their sales levels, net income, the value of fixed assets, or their level of investments. What is also crucial in the assessment is the lack of negative events and the hazard ratio being below 4.